What are your Dagons?
I decided this week to start in the OT for my reading since I typically spend more time in the NT. I chose 1 Samuel, and have learned some cool things through the book so far. Today I read chapter 5. The Philistines have just captured the ark of God and have placed it in the temple with their god Dagon. The next morning they find Dagon face down at the base of the ark. Then it says in verse 3:...
To My Mothers
Well I had a LOVELY post written up to honor my beautiful mothers, but then the computer crashed and I lost it. Oh well. I will try again:)  Today is a day that we gush about, pamper, and serve our mothers in order to make them know how much we appreciate the work they've done to care for and love us. However, the more I think about it, the more I want to lobby for a "Mother's...
Thrift Find :: Paying It Forward
Today I went to lunch after church with my lovely friend Alyssa. I feel like this girl could be in my family, and I always love our time together. She cracks me up. Anyway, we went to Sushi Hana, got fattened up on some not so raw fish (she did, but not I… not a fan of the intense REAL sushi), and then spontaneously took a trip to my favorite place: Value Village! The weather has been...
New2Me Clothing
Hey everyone! I wanted to let you know about my secondhand boutique I've decided to reboot. I believe I told all you old readers about it when I first gave it a try. I've been re-motivated to fill the store, and I'm excited to announce its launch! Please check it out and hopefully you'll find some pieces that are new to you! Spread the word. My hope is to be able to...
Currently
My friend Abi just did a blog entitled "Currently" which contained a mix of things she's currently doing. I thought it was fun, and feel like I need to do more spontaneous "get to know me" posts. So thanks Abi for the idea. I'm adding a few of my own too. Here I go… Watching: Drive-Ins, Diners and Dives. Whew that's hard to say… and kinda...
Not Quite Alone
It's Sunday today… a beautiful day full of sunshine and cool breezes, and I am trying to enjoy it alone. However, I have this nagging and nervous feeling about alone time, and I really hate it. Being alone is something I don't do well, but I want so badly to love it. I have many friends who love nothing more than to curl up in their favorite chair on a day off and lose themselves...
Watch
Rachel's ecstatic joy!
Pure Joy
As you all know, once a week I do activities with my friend Rachel. Rachel has the sweetest countenance, and in recent years, she has become a little bit quieter. It's been my goal every time we hang out to make her smile. Today… I hit the MOTHERLOAD! Our date yesterday consisted of a picnic at the neighborhood fountain with my Mom, Amanda & Evy. It ended up turning into an...
Birthday Surprise #2
To continue the birthday week festivities, Nick told me Monday night that i would need to be ready to leave the house by 7AM the next morning, and my only clue was that the activity would be a little "unconventional." Six A.M. came fast, and the only idea I had was that perhaps we were going hot air ballooning or something. Instead, Nick rolled over and pulled a tiny box out of thin...
Birthday Surprise Part 1
My sweet Nick was home for 4 days this week, and one of those (today) happened to be my birthday! Instead of just having a fun day on my actual bday, he made it a birthday week! Those events started Monday night when he came home from errands with these: Next he was upstairs like a cute little elf, wrapping some of my gifts. About 15 minutes later he came down with this… I was super...
Smile :: Fakin it til you make it
I had quite a week last week you guys, I'm not going to lie to you. My fickle little brain has a way of getting distracted. The words and promises of my God that I read each morning get shoved into second place, and my controlling ways take over until I spiral into a complete funk. Anyone else get to this place? I'm finding out that more and more people do.  During one of these...
Paul and Jenna's Portland Adventures
I'm not sure if you all understand the obsession that Nick and I have with Paul and Jenna. Most places we go, situations we find ourselves in, or activities we're doing involve us saying, "Paul and Jenna would love this." -OR- "I wish Paul and Jenna were here."  Well… last week, our dreams came true.  They WERE here! Our dreams came true. They've...
Happy Birthday Brudder!
My older bro turns 30 today, and I want to honor this amazing man whom I love SO much.  We go way back you and I. We were always little buddies growing up, building forts, climbing on sing sets, and even putting on war paint and running wild around the house. You always liked to egg me on, and you knew JUST how to push my buttons, but I could usually hold my own and would end up pinching your...
Tillamook Adventuring
My hubby LOVES cheese, specifically Tillamook cheddar. What better way to celebrate this passion, than by visiting the factory right? Nick had the idea the other day, and I gladly jumped on board. I love our adventures, and we hadn't been to the coast since we moved back to Oregon.  We started out at Cape Lookout State Park. We wandered up the trail a bit and ended up walking down some...
Our West Hills Tour Guide
Today Nick and I took my lovely grandmother Rosemary on a long overdue lunch date in her old neighborhood. We had told her back at Christmas that for her present we would like to take her out to lunch. Well, sadly because of our touring schedule and several different flus, it took us til the end of March to honor that.  As soon as she got in the car (dressed in Spring colors with coordinating...
He's Not Your Prince Charming :: Diane Comer
I have been selected to be part of my dear friend Diane Comer's blog team. Diane is married to Phil who is one of the lead pastors at my church Solid Rock. I used to have the privilege of being the Comer's assistant, and am honored to be part of this project with Diane and a group of incredibly talented women.  Last night was the second team meeting, but my first. I was rather...
Thoughts that are TRUE
This is another blog for all of you who struggle with believing lies. As you may know, I'm working through a lot this year with fighting a daily battle with anxiety. It's a battle already won by Christ, but one that I continually pick up and try fighting again and again. Slowly but surely, I'm learning  tools to fight when I'm being lied to and when my thoughts and emotions...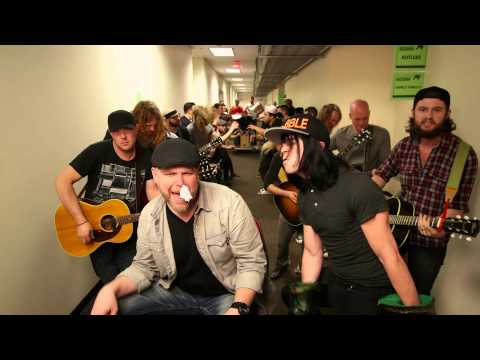 Watch
I had a dance party today with my friend Rachel. What did YOU do?
Jessica
Tonight Kutless played in the Taco Bell Arena (mmm) at Boise State University. Lucky for me, this was a show I was able to hop on the bus for, and even better, I was able to see my grandparents who live here. Once they arrived, I walked with them through the crowds to find a good seat. We spotted four seats together, and decided to snag them while they were available. As we scooted by the two...
Do what you think you can't
Today marked mine and Amanda's second sewing lesson from our lovely teacher Chris. After having to reschedule due to tour travel, we were very ready for a new project. Today we decided to make reusable grocery bags which are perfect for living in Portland. Step by step, Chris walked us through our project. I still can't believe I know how to sew! It feels so good to finish something...
Five Randoms
Here are a few things you may not know about me, serious and silly.  1. I am allergic to chocolate, but I eat it anyway. I can't get enough! It's actually the caffeine in chocolate that I'm allergic to, but since there's not a TON in a chocolate bar, I can eat it still:) Coffee is another story sadly. 2. My first job was being a DJ. Now don't think of me spinnin...
Watch
Forgot to add this to the Roadshow blog… Mercy Me wanted to have all of the bands come on stage for the end of the last song during their Dallas show. I was already standing with Nick, so he pulled me up there with him. Let me tell you… I almost pooped my pants I was so nervous! The turnout that night was close to 18,000 people. I've never been in front of that many people in my...
Roadshow Tour in B&W
Spring tour is in full swing, and lucky me, I got to join! This 40' beauty has been our home for the past week, and it has been a FUN week.  Here are a few snippits from the week on the Rock and Worship Roadshow 2013. This group of musicians has been so awesome and welcoming, and the message that's being spoken from those stages is incredibly impacting.  Every morning people work...
Let's Talk
Skin crawling, I sat on the bus today totally irritable, and completely insecure. I wasn't sure where it was stemming from. Not quite sure if someone or something in particular had sent me into this downward spiral, but I was ready to burst into tears at any moment. I held it in most of the morning and into the afternoon, and then my intuitive husband, knowing me oh so well, asked me,...
Uhhh Get Real!
Hey everybody (not sure how many actual "body's" there are reading this, but hello anyway)! I was inspired this week after a conversation with a good friend to really start using this blog as a way to connect people and to be able to talk openly with readers about things that are going on in our lives. I believe that God has gifted me with a passion & love for people of all...
My Buddy Rachel
I have a friend named Rachel, and boy is she wonderful. I've known Rachel pretty much her whole life, and it has been really neat to see her grow up. Rachel and I are buds. We both like our nails painted, we enjoy the lovely world of Disney, and we've been known to have a dance party or two to Hannah Montana songs. Well lucky me, I get to now hang out with Rachel every week! Her...
Cruise Partee Favors Days #3 & 4
Day 3 we woke up at sea on our way to Cozumel. We arrived after lunch at around 2PM, and were eager to go soak up the sun that had been lacking the day before. After debarking, we walked aways only to find out that there weren't any beaches within walking distance. We ended up finding a nice cab driver who agreed to drive us to a public beach for $5, because apparently all of the REALLY nice...
Cruise Partee Favors Days #1 & 2
Yet again, the many days spent apart were redeemed by another fun Kutless adventure. This time, we were on a cruise! K-Love invited the guys to play on their Friends and Family cruise last week, and asked families to join as well. I didn't have to really pray about my decision:) I was there! Here's a few Partee favors from our first couple days… The Kutless clan on the bus...
Happy Birthday Mama!
Mom, what a woman you are. First I want to say… don't kill me for posting this picture:) You're just so darn fun, and I wanted to capture that first. The personality that God has packed into you is outrageous. I want to highlight what a beautiful woman you are and make sure you know how special you are to me today. You're worth celebrating again and again and again. So...
Knowing God
"This is eternal life, that they may know You, the only true God, and Jesus Christ whom you have sent."  John 17:3 I think of those Christians who try and make salvation more than this. A list of dos and don'ts, an exhausting life filled with trying to win God's affection, judging God's followers on His behalf, all the while missing the best part… KNOWING...
Happy Birthday My Love
Twenty Eight years ago today my very best friend was born, and boy am I grateful. Had this AMAZING man not been brought into the world, I don't think I would have learned to love life I have. Had he not entered my life 5 years ago, I would not have learned what it means to truly see the good in people. I may not have learned how to laugh to the levels that I've laughed. My cheeks...
Yeah SEW Yeah SEW!!
My titles are ridiculous… I'm sorry… but I'm not.  So this last week, after a couple attempts at learning how to sew, I finally (along with my sister Amanda) learned how to sew. Chris Akenson is a lovely woman at Solid Rock who is a master seamstress, and we've also deemed her as my second mama. She used to work with me at the church, and we click so well. I was so...
Skamania Lodge Getaway
Nick and I just had the privilege to get away for a night to a beautiful lodge in the Columbia River Gorge, compliments of my lovely parents. They decided to gift us one of their gift cards, as they know we have limited time together with Nick's crazy travel schedule. Thank you Mom and Dad for a wonderful night away in a SUCH a beautiful setting. It meant a lot to us to be able to enjoy a...
"Mondate"
Nick and I coined a new word and tradition today, and that is what we call a "Mondate." Since weekends can get nutty, and since we don't always have weekends together, we're going to start (as often as he's home) doing Mondates, making our Mondays a special day together.  I finally am starting to feel better, and so we decided to spend the day out and about in...
My 2013 word
My friend Sara over at Glitter and Grace just did an awesome post that inspired me today to pray for a word over my life for 2013. She did it last year and had the urge to again this year. Well just an hour after reading her post this morning in bed I felt the Lord speak over me the word, "joy." For those of you who don't know, I can struggle to find this sometimes. I have...
MERRY CHRISTMAS :: (better late than never right?)
Here's my very belated Merry Christmas blog from California! It was my first official California Christmas, my first Christmas away from home, and our second Christmas as husband and wife. I was a little nervous that I'd be missing my family a ton, but I actually did JUST fine. I have the worlds best in laws, and so it feels like home when I'm there. They also do Christmas just...
TJ in LA
While we were in California we had the chance to see what my awesome little brother has been up to. He was given an incredible internship opportunity with designer/entrepreneur Stephen Kenn.  TJ moved to LA about a week after we got to Portland, and he hit the ground running. The week we were there, his bosses Steve & Beks were out of town and they had just completed a HUGE order of the...
Welcome to P&J's
Meet the people we are most obsessed with in life. Paul and Jenna. I know I've talked about them before, but we SERIOUSLY love these humans more than any people ever! Whenever we're doing anything, whether it's a trip to NYC, or a trip to the grocery store, we always turn to each other and say, "Gosh, I wish Paul and Jenna were with us." Do yourselves a favor, and...
The Reason Tour
As soon as we landed in Portland, Nick was off and running again on their Christmas tour. I had two weeks to get our things set up, and then lucky me, I was off for tour! I met the guys in Minnesota, and Nick took a shuttle with me back to the venue. I had to pack my suitcase for a week of freezing cold tour dates up north, and then 10 days in California for Christmas. One of the hardest suitcases...
Santa!
I've been really behind on my blogging, because I've just been so darn busy! That, and Nick's new studio is now in an office off our garage, so I've been too lazy to go downstairs:) Yeah… it's that bad haha Now I'm catching up on the past month, so that I don't forget what happened! This blog is like a diary for me, so I don't want to get too...
A Tiny Little Blessing
Moving back to Portland was definitely something God led us to do, and we're excited to be back. One of the main reasons for our move was for Kutless, but the BONUS has been being so close to family. This little peanut that I'm featuring today is one of the BEST parts about being home.  Evy was born about a week before Nick and I got married, and shortly after we moved across the...
Cross Country Day #4
We could NOT have been more thrilled to reach Day #4! This was going to be our shortest drive and the day that we would arrive in our new home of Portland, OR. Nick remained so focused and yet we had SUCH a great time on this trip. Having uninterrupted time with my husband is a rare and precious commodity, and I relished in it for that WHOLE week. Day #4 was Thanksgiving and that day I had SO...
Cross Country Day #3
Day 3 was going to be our longest drive, and BOY was it long. I think by the end of the day we had spent 14-15 hours in that truck. I'm so proud of Nick for being such a trooper. That's exhausting to drive pedal to the floor for that long. We had a lot of fun, talked about Jesus and His people, and laughed at random things and sights. We also had an intense gas station experience where...
Cross Country Day #2
Day two we arose early, took advantage of a free hotel breakfast, and hit the road. We were chipper and ready to make more headway. It's always good when you know your day will end at the halfway point.  Our first new state we hit was Iowa just for an hour tops. We had to skim the bottom corner to make it into Nebraska. Entering Nebraska. We were on such a motivated time schedule that...
Cross Country Day #1
Before we left our first house, we had our sweet neighbor Linda snap a couple photos to remember! This was the last thing I packed. The "D" from our wedding. The first day of our cross country road trip didn't quite start out as planned, but my Mom reminded me that it was probably God delaying us to protect us from something. When we put our truck on the trailer, it hung...
Thank You Conduit
The church body is such an incredible vessel. My goodness. God has SO blessed us with such great friends. While we lived in Franklin, we were blown away by our church family who just surrounded us with love and made our lives richer. Our village group was one particular blessing that came from Conduit. These 15-20 people have become forever family, and I'm so grateful for each one of them. ...